Koramangala is one of the largest neighborhoods in Bangalore. With wide, web tree-lined boulevards and a mix of luxury apartments, viagra 100mg commercial structures, and some great eateries, it is a highly sought-after residential locality. So if you happen to be a foodie living there in a PG or a flat, you my friend, be prepared to leave your shelter to find some great cafes. Here are a few to begin with –
The Hole In The Wall – 4th Block, 8th Main Road
'Hole in the Wall' absolutely defines what an awesome English breakfast should be like with their divine cheese omelettes, pancakes and waffles. The place is tastefully decorated with antiques. The right music and colourful interior makes the experience more than just about the food. The menu is literally designed to match their ambiance. If you are looking for the best breakfast in town, look no further.
Dyu Art Cafe – 5th Block, KHB Colony
Dyu Art Cafe is absolutely amazing. The cafe is basically a renovated villa that has a seating area on the ground floor as well as the first floor and is designed in such a way that natural light floods the interiors throughout the day. The sitting area is well decorated, one could simply sit there and relax for hours on end. Service is swift and the waiters very friendly. The menu is eclectic and has loads of options ranging from fries to chicken schnitzel to sandwiches and so on.
Coffee On Canvas – 4th Block, 12th Main
'Coffee on Canvas' is a small place tucked away in Koramangala 4th Block. It has a semi open seating arrangement which is sort of chic. The ambiance is embellished by all the artwork hanging around, which is great. You can play board games or relax on the bean bags while you wait for your order to arrive. Though the menu is pretty mainstream, the food and coffee are exquisite. The masala omelette is a perfect balance of all things dreams are made of. The ingredients used are fresh and bursting with flavour. Definitely worth a visit.
Bistro Claytopia – 3rd Block, 80 Feet Road
With its splendid ambiance and great food, Bistro Claytopia ticks all the right boxes. The outdoor setting with its casual cafe vibe is definitely tasteful. The highlight of Claytopia is that they provide ceramics to paint on for a small cost. Your master piece will be glazed and given back to you. Service is decent and their choice of menu is great.  Must try the Oreo milkshake here. You will love the burgers and pasta too.
Mr.Beans Home Cafe – 3rd Block, Tank Road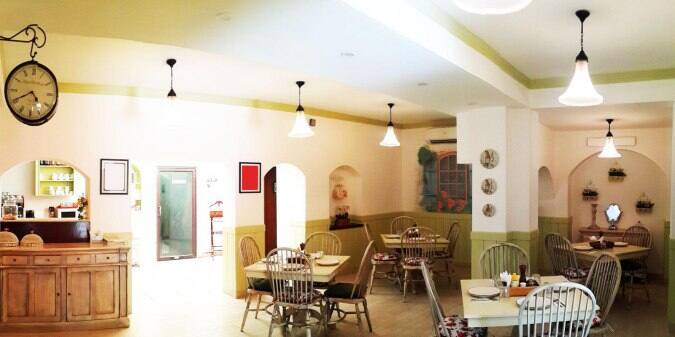 Mr. Beans Home Cafe is a highly underrated one with an amazing menu. Just like an old English house, Home Cafe is neat and clean and quiet. Coming to food, the pizzas are to die for and so are the sandwiches and lattes. The ambiance of this place is very homely and decorated with a common theme yet different. Service is really good, as it's fast.
So go out and let your taste buds relish every thing that is heavenly. Do let us know of more cafes that we have left out. One bite at a time and you can have it all.